Netgear

In business, confidence is everything. When it comes to your network, it's even more important. Whether you're a small business with big dreams or a mid-size business ready to take the next step, you need to share access and ideas safely, connect remote locations securely and give your people the tools to perform. NETGEAR provides networking, storage and security solutions with an advanced range of reliable, affordable networking products that are easy to install and maintain. NETGEAR delivers solutions you can count on, so you can spend more time on what matters most – running your business.
To date, 10GbE connectivity has often involved costly fiber based technology as the predominant way to support high-speed access to the backbone of the network, as well as virtualized server, storage and Data Center environments. The advent of more affordable 10GBase-T Copper solutions has seen growing adoption in recent years, but is now set to take off with advances having been made in reducing copper latency and power consumption disadvantages compared to Optics. For example, NETGEAR advancements in hardware and software engineering have delivered comparable power consumption rates between the 10GbE all fiber based M7300 series (XSM7224S), and the released M7100 series.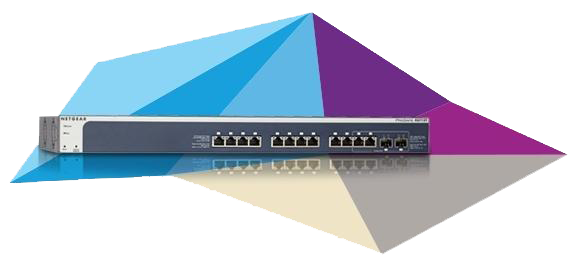 Latest additions to the 10GbE stable include three switches with fixed configuration 10 Gigabit ports along with ground-breaking price points.
ProSAFE® 8-port 10 Gigabit Plus Switch (XS708E) for small organizations
ProSAFE 12-port 10 Gigabit Smart Switch (XS712T) for small and medium-sized organizations
ProSAFE 24-port 10 Gigabit Copper M7100 series Managed Switch (XSM7224) designed for enterprise and campus networks supporting up to 500 employees
NETGEAR turns ideas into innovative networking products that connect people, power businesses, and advance the way we live. Easy to use. Powerful. Smart. And designed just for you.