Federal Signal

We provide products and services to protect people and our planet.
Federal Signal Corporation is a global corporation with about 2,800 employees located in Oak Brook, Illinois. Federal Signal designs, develops and deploys solutions intended to protect people, property and the environment. Federal Signal is best known for its variety of emergency lighting, industrial equipment, public safety solutions, and outdoor warning sirens. Federal Signal was founded in Chicago, Illinois, in 1901 as Federal Electric Co. The Company went public in 1969. Currently, the company has 12 manufacturing facilities in six different countries.

At the core of Federal Signal is a spirit of innovation, a century-old drive for creating life-saving devices and solutions that define new market categories.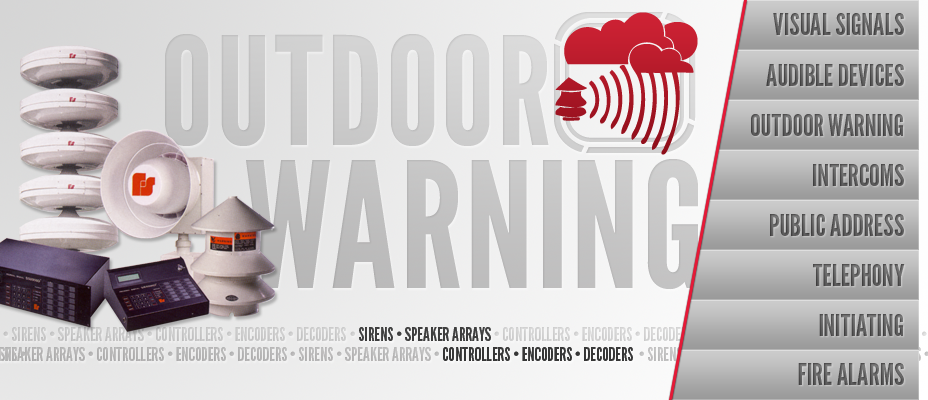 Federal Signal offers the widest range of Electronic and Electro-Mechanical Sirens available. Advanced motor design and cutting edge amplifier and acoustic driver technology, provide the highest level of reliability and quality available today. Our Command and Control Software systems have been installed in more than 500 communities around the world, including more than 25 Nuclear Facilities, nearly 100 Military Facilities, and Country-wide systems in Europe and the Middle East.
Backed by ISO 9001:2000 certification, UL listed controllers, and two-way status monitoring software, customers can rest assured that their warning systems will be ready when needed.
Our market-leading software, equipment, and services deliver global solutions that integrate outdoor, indoor, and personal notification systems over a redundant networked platform.
SmartMsg, an advanced suite of software applications, delivers voice and text messaging to every possible communication device, including radios, telephones, email, and PCs. Our premise-based and Hosted solutions provide unmatched flexibility and reliability to meet the needs of both large and small communities.
Federal Signal can provide complete turn-key solutions, including: System Design, RF and Acoustic Surveys, Installation, System Integration, Optimization and Commissioning, Field Testing, Training, and On-going Maintenance and Support.
Applications
Weather Warnings
All-Hazard Events
Floods/Down Stream Warning
Tornado Warning
Tsunami Warning
Hurricanes
Chemical Spills

Keeping Campuses Safe!
Federal Signal's School and Campus Alert Solution provides a fast, complete communication system in order to alert and direct individuals in the event of an emergency. This integrated solution allows for school/campus-wide coverage in a fully integrated indoor/outdoor/personal alerting system, essential when notifying key locations, admin offices, classroom areas, office employees and 911 centers.
School officials simply cannot afford to limit their concern to education alone. Student safety and security continues to be a top priority. Choosing an effective and reliable school and campus mass notification and security solution is critical to the safety of student and faculty members.
When an emergency occurs, how quickly are you able to communicate with students, first responders, staff and visitors?
Federal Signal offers a variety of campus communication solutions that can be readily customized to your organization's specific safety and security needs. These solutions focus on providing fast and reliable communications in order to notify the school, campus, security personnel, administrators, local law enforcement and other first responders of a significant emergency or dangerous situation on an instant's notice.
Our Federal Signal solutions can be readily adapted to meet a school district's or university campus' particular needs. These fully integrated solutions can consist of networked equipment that communicates with local 911 centers; it can be compatible with outdoor and indoor warning speakers and strobes; and lastly, can work with our SmartMsg urgent notification system.
Federal Signal's Campus Alert System provide fast, complete communication to alert and direct individuals in the event of an emergency. Campus Alert allows for campus-wide coverage in a fully integrated indoor/outdoor/personal alerting system; essential when notifying key gathering locations such as dormatories, admin/classroom areas, and office complexes.